German Christmas Huts
Are you planning to put a display of your items in a Christmas market? Don't go for a hut style that everyone else follows. Opt for something unique that will attract customers to your hut. But what could that be? Traditional German Christmas Huts!
As is known to all, Germany is a beautiful country with some mesmerizing architecture that will keep you in awe with it. When it comes to the traditional hut style of the country, it gives a classic rustic look that is incredible to see and amazing to add to any Christmas market.
Christmas is not just a one-day celebration, it is an event, a festival that is celebrated and widely awaited for the entire year. Everyone waits to add Christmas decorations to their home, office, workplace, or store. Without decoration, the festive period feels gloomy. When you put German Christmas Huts into your market, the aura of the place changes drastically.
The delectable aromas of the hot chestnuts, sausages, freshly-baked cookies and bread, every minute, every moment are classic and warming. When combined with quaint architecture, the aura excels and the magic of the place doubles.
At The Christmas Collection, you can get amazing and well-crafted German Christmas Huts that will enhance your display. Being the experts in supplying classic and contemporary Christmas decorations, we provide comprehensive solutions to our clients. Supplying and installing these German Huts anywhere in the UK is done by our expert team, leaving you out from experiencing any headaches.
Offering the market stalls in different designs and sizes, we make it certain that all our clients can easily afford the traditional hut to add a unique touch and be the centre of attraction for any market where they are placed.
What to look for when you purchase from The Christmas Collection?
Our German Christmas Huts come in varied shapes and sizes, including:
• Half-timbered style huts
• Rustic style with repeatedly flamed and glazed larch wood panelling
• Scandinavian style huts
The best part of buying from a renowned company like The Christmas Collection is the customers get the liberty of customizing the huts, in terms of their depth, width and colouring. Offering you a wide range of other accessories and extras, we make sure the end product that we deliver stands up to your expectations and meets your demands.
What extras can you add to your German Christmas Huts?
Getting the opportunity to customize your Christmas hut is like painting on a canvas, you can add every detail and design that you have in your mind. Adding extra features to make your hut different from other regular and standard Christmas huts is a brilliant idea. Supporting this idea, we provide you with the following extras to add to your huts:
• Walkable design
• Side flaps
• Windows and window shutters and/or glazing bars
• Different roof styles and designs
All your creative instincts can be put to use to create a lucrative stall, ideal for your business! At The Christmas Collection, we appreciate and encourage our customers to be creative by supporting their innovativeness with our supplies.
Our Various Market Huts:
• Our smallest market hut is 2 meters. But you will be amazed to see its standard features and how it carries everything that a sales hut might need.
• Our bestseller hut is the 3-meter one. It is also the most famous product from our German Christmas Huts collection. It is made of thoroughly processed wood that turns into a real eye-catcher.
• If you are looking for more space, our 4-meter huts are for you. It has two sales flaps at the front, and you can add a counter or make it walkable for your customers, according to your needs.
• The 6-meter hut is an all-rounder. If you have a good team to support you and are putting up the counter for gastronomy or pure sales purposes, this is the hut that you need.
• One of the amazing products that we offer is the Tower Huts. It is a stunner and offers great internal space. You can easily sell any of your large products or items through this platform.
• Pavilions are the huts that offer the perfect solution to sell products like sausages or beverages. It is a great centrepiece for the market.
Make your choice and order the best traditional market stall design that guarantees to boost your business and sales.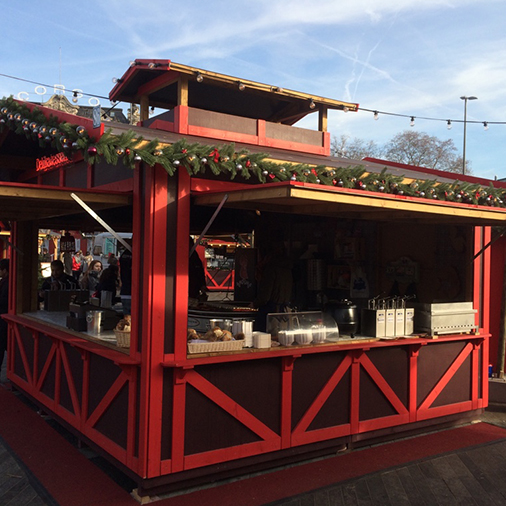 German Christmas Huts
Whether you're holding a Christmas market or staging your answer to Hyde Park's Winter Wonderland, we can supply and install German market stalls anywhere within the UK.
We have a wide array of designs and sizes available for purchase or hire.
Speak to a member of our team to find out more.